Had to chase up item late from expected…
Had to chase up item late from expected dispatch. When company contacted received item in a couple of days. Happy with product.
Excellent product and great…
Excellent product and great communication when I had a query
I got exactly what I ordered
I got exactly what I ordered
Value For Money
Made to measure, good product, value for money, delivered on time.
Delivered on time in good condition
Delivered on time in good condition. Maybe could have mentioned that both sides were covered in blue protective film.
Good choice and prices
Good choice and prices, delivered on time.
First order was damaged but no problem…
First order was damaged but no problem replacing with a quick phone call. Thank you.
Superb!
Superb! My order arrived promptly and as instructed. The materials were cut precisely to my measurements. Relatively straightforward to put up ( after having to board my wall as it wasn't perfect. End results- Simply stunning!!!!! Absolutely recommend… Thankyou so much for helping to make my project a reality!
Good Value Excellent Service
Needed a perpex sheet to replace an indoor glass pane. Sent the measurements online and received a prompt delivery with the exact measurements. Well priced and good value for money.
This company is amazing
This company is amazing. My order was dealt with quickly and has proved to be of excellent quality. Before I placed my order, they emailed it to me so I could review it. Being a lady of senior years I found this invaluable. I will definitely use them again. Five stars all round.
Cut perfectly to my measurements…
Cut perfectly to my measurements arrived exactly when stated. Very pleased. Thank you.
Excellent service and delivery
Excellent service and delivery
Quick delivery and problem sorted…
Quick delivery and problem sorted efficiently. Nice product.
Totally professional service and…
Totally professional service and excellent quality product.
On the right track
There is no way of getting Cut My to answer an email or even bother viewing the chat. Tried three times, over weeks, to no avail. OK, so the choice of products and services is brilliant, and the products ordered are cut to exactly the size and delivered promptly (samples not quite so, had to wait a while), but if something goes wrong, there is no way to resolve it short of showing up in person. Should I have more luck by leaving you this review here on the offchance you might respond: order # 000648983, you sent me the wrong thickness of acrylic sample. I need 3mm, you sent me 5mm. Could you please send me the 3mm instead? Yes, I can imagine what a 2mm less thickness looks like, but I can't see how much that imaginary acrylic bends, so I'd really like to experience it in person. I paid for the sample after all, and you will get my business in the future if I can actually see what I'll be buying. Update 5/12/23 Still no contact... Update 7/12/23 They eventually responded to the chat and a nice guy also rang me just now to arrange for a sample replacement to be sent out, so I'll update the review once it arrives. So far so good.
Ordered 7 pieces of 6mm…
Ordered 7 pieces of 6mm Acrillic/Perspex clear various sizes for my new enclosure for my CNC all were cut,packaged perfectly and arrived on time Quality of the Perspex and sizes and packaging were perfect my enclosure is now built well proud I would highly recommend this company and will be buying from them again in the future
Easy to deal with
Easy to deal with. Got exactly what we wanted
Shaker doors - top quality at a really good price.
Having previously bought a lot of MDF board cut to size to make an integrated wine rack and fitted shelf unit, I decided to go ahead and purchase 4 cabinet doors for cupboards in alcoves in our sitting room we were planning. I had already bought 4 doors from a company on eBay which were a standard size and whilst the dimensions were ok, they didn't really work so reluctantly decided to splash out and get 4 made to the exact size we wanted and ditch the unused ones. So, so glad I did, the quality of the new doors is far superior, the edges are finished so will give a really good finish when painted, the construction of the doors means the internal angles are sharp (not a routed curve) and the overall look and feel is very, very good. If you're thinking of giving your kitchen a makeover and replacing your doors with a shaker design I would wholeheartedly recommend that you go with it - whilst our project was not a kitchen, the look of the cabinets once finished will rival a bespoke joinery product!
DIY Custom Height Shaker Wall Panelling Details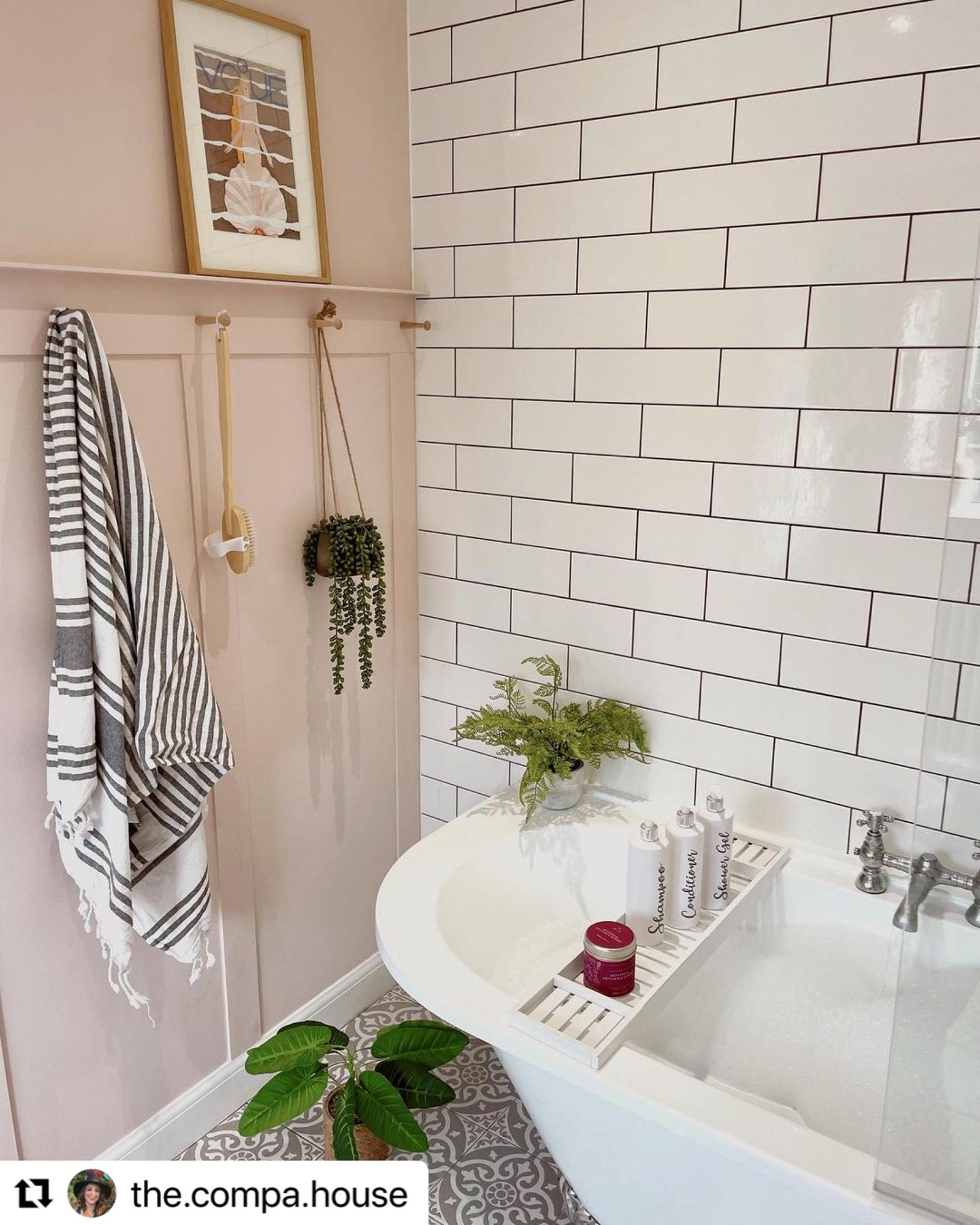 Read our guide on how to install your wall panelling.
Using moisture-resistant MDF, our custom height shaker Wall Panelling Kit for bathrooms is the perfect solution for adding style and protection to your bathroom, toilet, or other rooms with high humidity and to protect guard your walls against damage from furniture or moisture.
Using our easy ordering process, you just need to enter the dimensions of the wall that you would like your wall to cover, and then input your preferred number of columns and rows. We will cut each piece to size, prime it if you opt for us to, and ship your order directly to your door. You can easily install it yourself and even add a popular picture shelf to hold your bathroom essentials.
Our DIY custom height wainscoting shaker wall panelling is a cost-effective way to add character and elegance to your bathroom or toilet. It is particularly popular in high-traffic areas like these rooms as well as hallways. This wall panelling is available in 6mm MR MDF, 9mm MR MDF and 12mm MR MDF. You can also choose the width of your MDF battens to be 50mm, 80mm, 100mm or 120mm. 100mm is our most commonly bought width and is therefore set to this at default.
Adding panelling to your walls can help define a room by lifting it with texture and sophistication while adding to any interior design themes or styles. Wainscoting also gives you the option of having a two-tone colour palette, allowing you to be bold with your wall colours without it being too overwhelming. With our Wall Panelling at half height, you can still add a pop of colour to your room without it dominating the space.
Looking for an easy-to-paint option? Our Premium Moisture Resistant MDF wall panel strips we offer can be primed on the front side, so they can be painted as soon as they arrive.
Our courier's maximum panel length is 1800mm. If your wall is longer than this and therefore you enter dimensions larger than 1800mm, we will provide you with multiple pieces to make up the total length required. We will make sure that the panels are cut to equal sizes so that they can be joined in the middle.
Please note that Medite Moisture Resistant MDF is designed for use in humid conditions, however, it is not suitable for external applications.
Add a picture shelf as your wainscot cap
Our customisable MDF shelf is the perfect addition to our custom height wall panelling kit. It is cut to size so that it is the same length as your wall panelling kit. Once installed, you will be creating a seamless and cohesive look for your wall space. It's made from high-quality 18mm MDF, and the flat surface of the shelf provides ample space to hold your bathroom essentials or display some of your favourite artwork. If you would prefer a Dado Rail for a more traditional look on top of your Wall Panelling, then we also offer shaker wall panelling with a Dado rail.
Our MDF shelf is easy to install, and you don't even need to drill into your walls! The shelf can be attached securely to the wall panelling kit with the included adhesive. Our Picture Shelves come with the exact number of support blocks and glue required, as well as an easy-to-follow installation manual. When opting for your wall panelling kit to come primed, we will also prime both sides of the shelf so that it can easily be painted upon delivery to your door.
We offer our picture shelving in both 80mm and 120mm in depth, so you can decide between the options as to how far you would like your shelving to come out from the wall.
Please note, the picture shelf is intended for decorative purposes only.
Share your Bathroom Wall Panelling with us to feature on our website. Simply mention @cutmy.uk on Instagram or upload a photo and tag us!
Installing Your Wall Panelling
After ordering your wood wall panelling comes the important part. Installation. Don't worry - we include a wall panelling manual within your kit which can help you with installation.
Below is also a step-by-step guide to assist you to install your new and outstanding wall panelling.
What You Will Need
Wood primer
Choice of paint colour
Pencil
Pre-Cut Moisture Resistant MDF Wood Panelling Strips
Pre-Cut Picture Shelf
Triangular Supports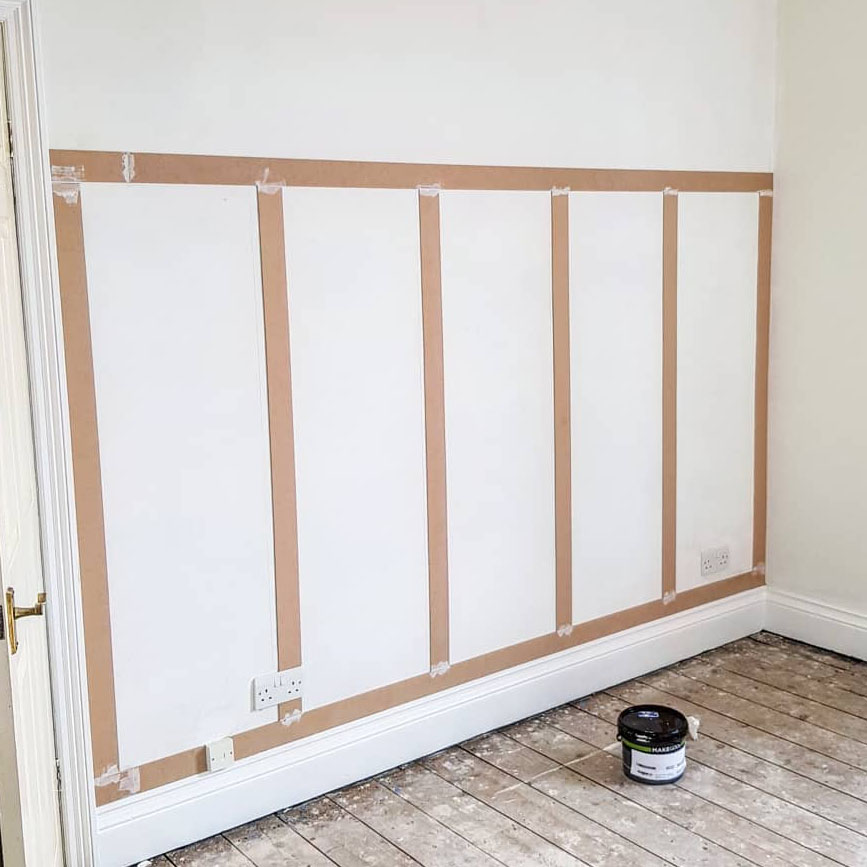 How to Install Wood Panelling
The technical view of our visualiser (at the top of this page) will show you which measurements you need between each batten based on your input. Make sure to note down these measurements when ordering the kit so that you know how far apart you should be marking the measurements when it comes to installing it.
Our Wall Panelling Kit includes a physical installation manual which provides more detail and recommendations on which order to install the panels in.
Step 1: Organise
Lay out the MDF wall panels on the floor and group them based on size.
Step 2: Stencil
Using a pencil mark where the MDF wall panels need to be positioned on the wall. You can use the measurements provided in the 'Technical View' of our visualiser for spacing.
Step 3: Stick
Apply a thin layer of adhesive on your MDF wall panels and stick them to the walls where you have previously marked them. We strongly advise you to read our installation manual for this step.
Step 4: Level
Use a spirit level to make sure the MDF wall panel pieces are aligned correctly and fix when level. Wait to dry.
Step 5: Add your picture shelf
If you've added a picture shelf to your order it's time to install it. Detailed instructions are provided with your kit.
Step 6: Fill
Once dry, use wall filler to fill any gaps between the strips. If you've measured well, the gaps should be small.
Step 7: Caulk
Caulk around all edges of the MDF wall panels making sure to smooth evenly with a clean slightly wet finger or application tool. Once this is done, wait until dry.
Step 8: Prep
Prep the panelling for painting by sanding the joins which you've filled with filler. This helps the paint adhere and makes the join seamless and flat.
Step 9: Prime
Apply the wood primer evenly and wait to dry. You can skip this step if you chose for us to apply the priming for you.
Step 10: Paint
Paint the panels and walls with your chosen colour. We're loving deep greens at the moment, like Farrow & Ball's Green Smoke as shown in the visualiser.
How to install bathroom wall panelling and picture shelf
Wall Panelling Key Features
Versatile
Wood wall panelling is made easy with the use of our Moisture Resistant MDF sheets, which are a popular and adaptable material made up of small strands of mixed hard and softwoods, combined with resins and wax to produce a hard-wearing but lightweight panel.
Lightweight
Due to the small strands that construct the sheet, our Standard Grade MDF sheets as well as our Moisture Resistant MDF Sheets are an ideal for completing wood wall panelling as the wood panels are light to install and fit.
Malleable
Our MDF wall panels take well to most adhesives and paints. As such MDF wall panels allow for fantastic possibilities for adding colour and creativity. For more wall panelling ideas for how MDF can be best-used check our guide Choosing the Right MDF.
Inexpensive
Far cheaper than solid wood of the same size, MDF wall panels are a cheaper material to work with and are ideal for completing wood wall panelling due to their ability to be produced and shipped cheaply and quickly for fast installation.
Customisable
Our sheet takes well to most adhesives and paints, so are great for customising for different projects including bedroom wall panels, decorative wall panels, hallway panelling, wood wall cladding and bathroom wall panels. Additionally, wood wall panelling is easy to fabricate and fix with screws, nails or glues. Further, we can provide MDF wall panels exactly to your specifications and measurements, and can include options for customisations such as Cut-Outs for plug sockets, or fixtures on the wall should you require them.
Share your Wall Panelling with us to feature on our website. Simply mention @cutmy.uk on Instagram or upload a photo and tag us!
Wall Panelling Specifications
| | |
| --- | --- |
| Material | Wood - MR MDF |
| Finish | Standard (Unfinished) |
| Available Thicknesses | 6mm, 9mm, 12mm |
| Fire Rating | Euroclass D |
| Moisture Content | 0.5-0.8% |
| Manufacturers Tolerances | +/- 10% plus 0.4mm (e.g. 5mm cast sheet could vary from 4.1mm to 5.9mm) |
| Cutting Tolerances | +/- 1mm |
For the full technical details, download the manufacturer's datasheet here:
Frequently Asked Questions
What is Bathroom Wall Panelling made of?
Our wall panelling is made from Moisture Resistant MDF. Also known as MR MDF, It has a slight green tint and contains a moisture-repellent resin that provides increased resistance to humidity. As a result of this, our MR MDF is ideal for use in high-humidity areas or areas of high moisture.
Is all MDF moisture-resistant?
Not all MDF is moisture-resistant. MDF is a porous material, and moisture-resistant sheets prevent the MDF sheets from warping or being affected by moisture.
My MDF is not the colour I was expecting, have I been supplied with the incorrect items?
Our Moisture Resistant MDF could be a variety of colours depending on supply, including shades of green or brown, possibly sandwiched in layers.
Can I waterproof these MDF panels even more?
Moisture-resistant MDF sheets are already resistant to moist areas and humidity, however, you can improve their hydrophobia by coating them in an appropriate waterproof primer or paint.
How do you measure for Wall Panelling?
All you need to do is simply measure out the area that you would like to panel with a tape measure and input your measurements into our site along with your column/row preferences. Our site will work out the rest for you!
What comes in the Wall Panelling Kit?
Our wall panelling kits contain made-to-measure MDF Battens to create the shaker effect on your walls as well as a short instructional leaflet for installing them. We can supply the additional materials you will need for installation like adhesive, dust sheets, primer and filler. These can be added to your cart in the kit configuration tool on the Wall Panelling page, or found on the accessories page. Backing boards for unfinished walls are not included.
How do you put up Wall Panelling?
Wall panelling can easily be installed using adhesive, or screws. We would also recommend making sure you use a spirit level when installing to make sure that the pieces are flat. In addition, we have an installation guide for our MDF Wall Panelling.
Does your MDF come primed?
Our Moisture Resistant MDF comes unprimed, but you can select for us to prime the front side of the wood for you. This will save you the time and effort of doing it yourself, so once your panelling arrives, it's ready to paint!
Can I paint on MDF?
Often chosen for its inexpensive cost to create furniture, MDF can be painted to add some character or personality to any piece. We have written a guide to assist you in painting your MDF.
What is the best colour to paint Wall Panelling?
Following current trends, we see the colours shift according to the season and trend. Though typically people opt for painting MDF a darker shade, either green or blue, to manipulate any natural lighting and create interesting depth with shadows.
What are Picture Shelves and how can I add them to my order?
Picture shelves are thin strips of MDF that can be attached to the top of your wall panelling to create a ledge for displaying photos, art or other items. You can add picture shelves to your wall panelling kit by selecting the option "Picture Shelf" and choosing the thickness of the shelf.
How do I paint my Picture Shelf?
You can paint your picture shelves in the same way as you paint your wall panelling. You can use any type of paint that is suitable for MDF, such as acrylic, emulsion or gloss. If you select for your wall panelling kit to be primed before delivery, then we will prime your picture shelf too.
How much weight can Picture Shelves hold?
The weight a picture shelf can hold will depend on its length and depth. You should avoid placing heavy or fragile items on your picture shelves, as they may fall or damage your wall panelling.
What are the benefits of adding Picture Shelves to my Wall Panelling Kit?
Picture shelves can add style and functionality to your wall panelling kit. They can create a focal point for your room, showcase your personality and interests, and make use of vertical space. They can also protect your wall from marks and scratches caused by hanging frames or nails.
Delivery Policy
FREE DELIVERY WHEN YOU SPEND £250 OR MORE
All delivery charges include excellent standards of packaging to ensure your order gets to you in great condition.
Economy
Less than 700x700mm or longest side <1300mm
£9.95
Estimated to arrive in 4-5 working days.
Estimated to arrive in 6-8 working days.
Express
Less than 700x700mm or one side <1300mm
£14.95
Estimated to arrive in 3 working days.
Estimated to arrive in 5 working days.
Next Working Day
Less than 700x700mm or one side <1300mm
£29.95
If out of stock, we will contact you to make other arrangements.
Sample Delivery
Estimated to arrive in 7 days.
Samples are generally 100mm x 100mm
Standard Collection
READY FROM 4 WORKING DAYS
Estimated ready from 4 working days
Collect from Unit 60, BN5 9XR
Collect from 9am to 12:30pm and 1pm to 5pm, Mon to Fri.
Express Collection
Ready within 2 working days.
Collection from Unit 60, BN5 9XR.
Collect from 9am to 12:30pm and 1pm to 5pm, Mon to Fri.
For further information on our terms and conditions regarding delivery, please read our Delivery Policy or Terms and Conditions page