Made to Measure Wardrobes
Affordable Fitted Wardrobes from just £250
Are you tired of making do with an ill-fitted wardrobe? Do you dream of walk-in closets meticulously designed just for you? A custom-fitted or made-to-measure wardrobe opens up new possibilities for your home. No more crammed closets, wasted space, or sagging shelves. A bespoke wardrobe is tailored precisely to your needs and preferences.
✔ Any size, to fit any space

✔ Any combination of rails, shelves and drawers

✔ Soft-close doors and drawers included in the price

✔ Strong and durable, made of 18mm MFC
✔ Wide range of finishes and handles to compliment your décor

✔ 155 degree wide-angle hinges or sliding doors

✔ Built in the UK from sustainably sourced wood

✔ 10-year guarantee
Completely customisable, any layout possible to suit your storage needs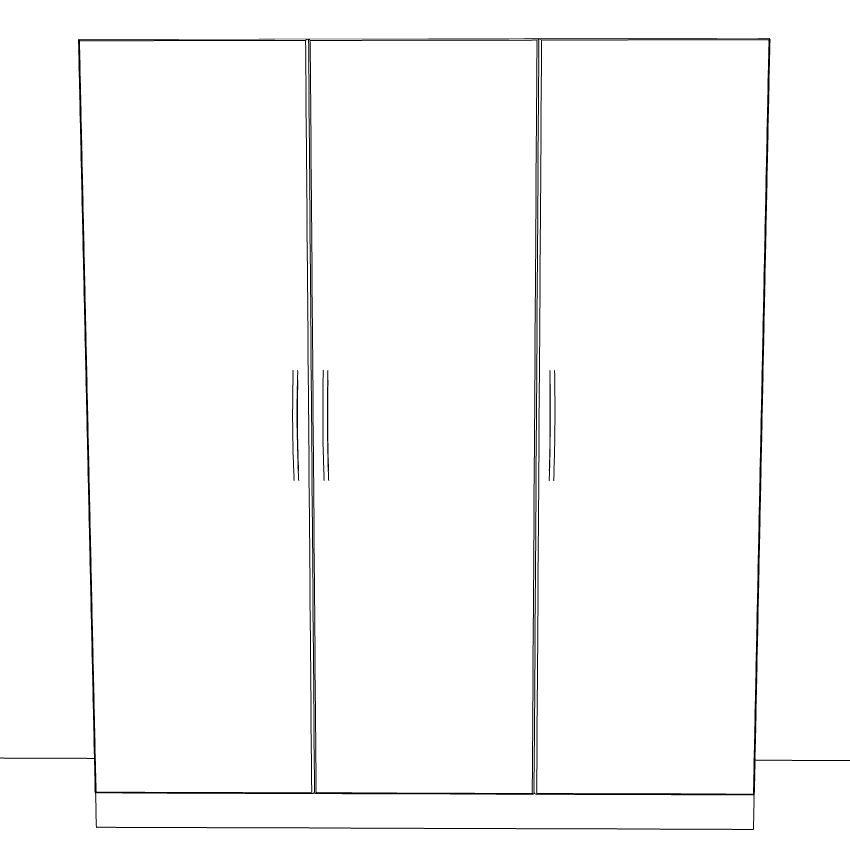 Hanging Rails and Shelves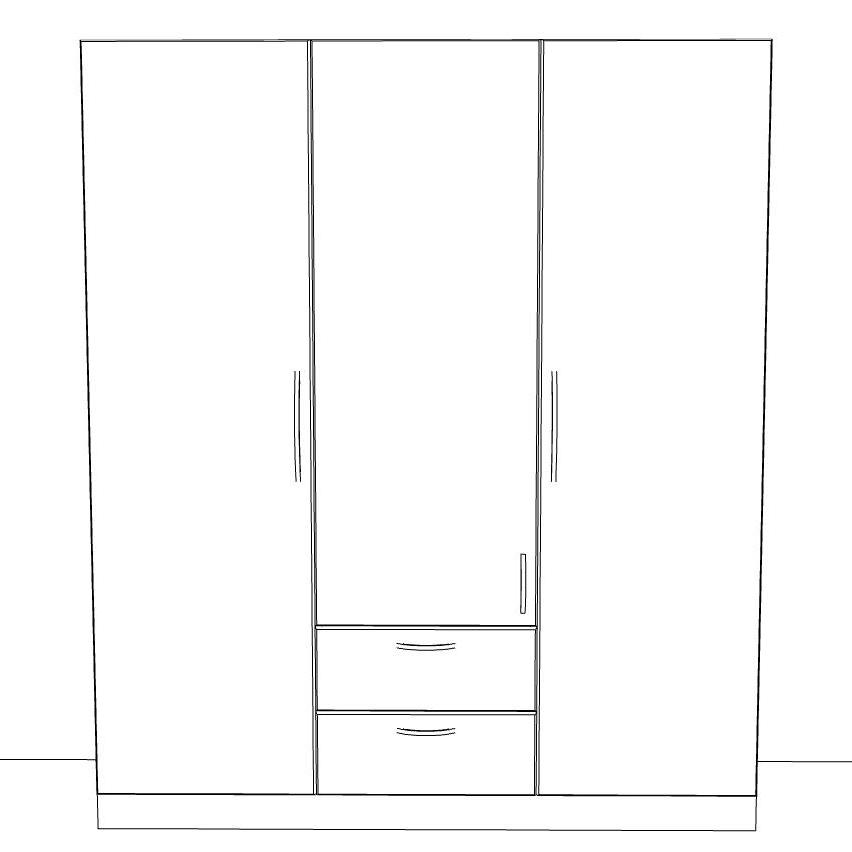 Shelves and Drawers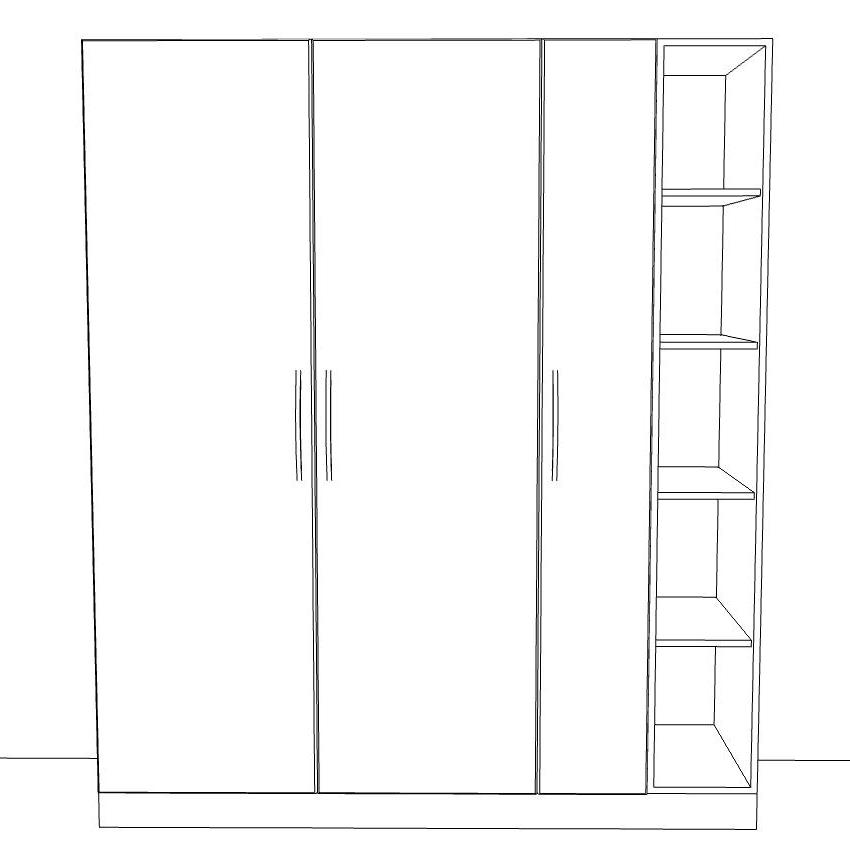 Hanging Rails and Open Shelving
Need long hanging space for your dresses? No problem. Also, need cubby holes for your bags and jumpers? No problem. Also need 6 drawers, 3 more rails and shelves at the top? No problem, you can create the wardrobe of your dreams in any height and width. Contact us today to discuss your dream wardrobe.
All wardrobes are made with you, the customer, in mind. 155-degree wide-angled hinges so that you don't have to manoeuvre around awkward doors in small spaces. Soft-close doors and drawers at no extra cost and optional filler pieces so that you can create your own fitted wardrobe. We help maximize every inch to create an organised system that keeps all your belongings tidy and accessible. Our made-to-measure process ensures that your new wardrobe will complement your home decor seamlessly.
They're all lovingly built in the UK by our expert cabinet makers resulting in a superior product you won't find anywhere else. We're so confident in the quality it comes with a 10-year guarantee.
No in-home design consultation by a salesperson, no one starting at an unbelievably high price and then offering you 70% off to seal the deal. Just a great product at a great price. All it takes is a quick chat about your storage needs and we'll send you a quote. Enquire today!
Blending Form and Function
Great wardrobe design blends aesthetics, functionality and quality craftsmanship. Our custom fitted wardrobes check every box:
Beautifully made using quality finishes and hardware meant to last for years. Every detail is carefully selected for durability and functionality.
Intelligently designed based on your lifestyle and storage needs. We optimize the layout for convenience, accessibility and flow.
Meticulously fitted and installed for a streamlined, built-in look. Your bespoke wardrobe will feel like part of the home.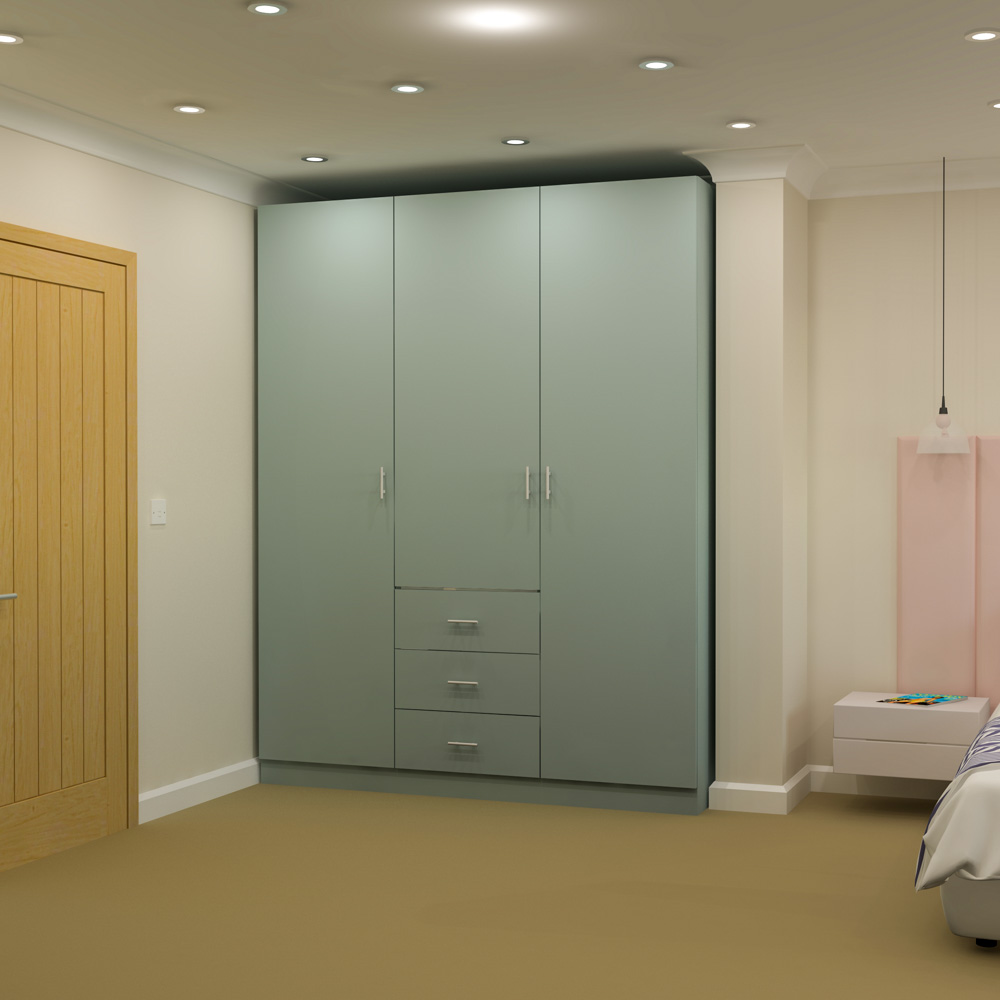 Create the wardrobe of your dreams and save thousands of pounds
Our made to measure wardrobes start at just £250. Every aspect of your new wardrobe will be made to measure from the height and width to the number of rails, shelves and drawers.
Enquire Today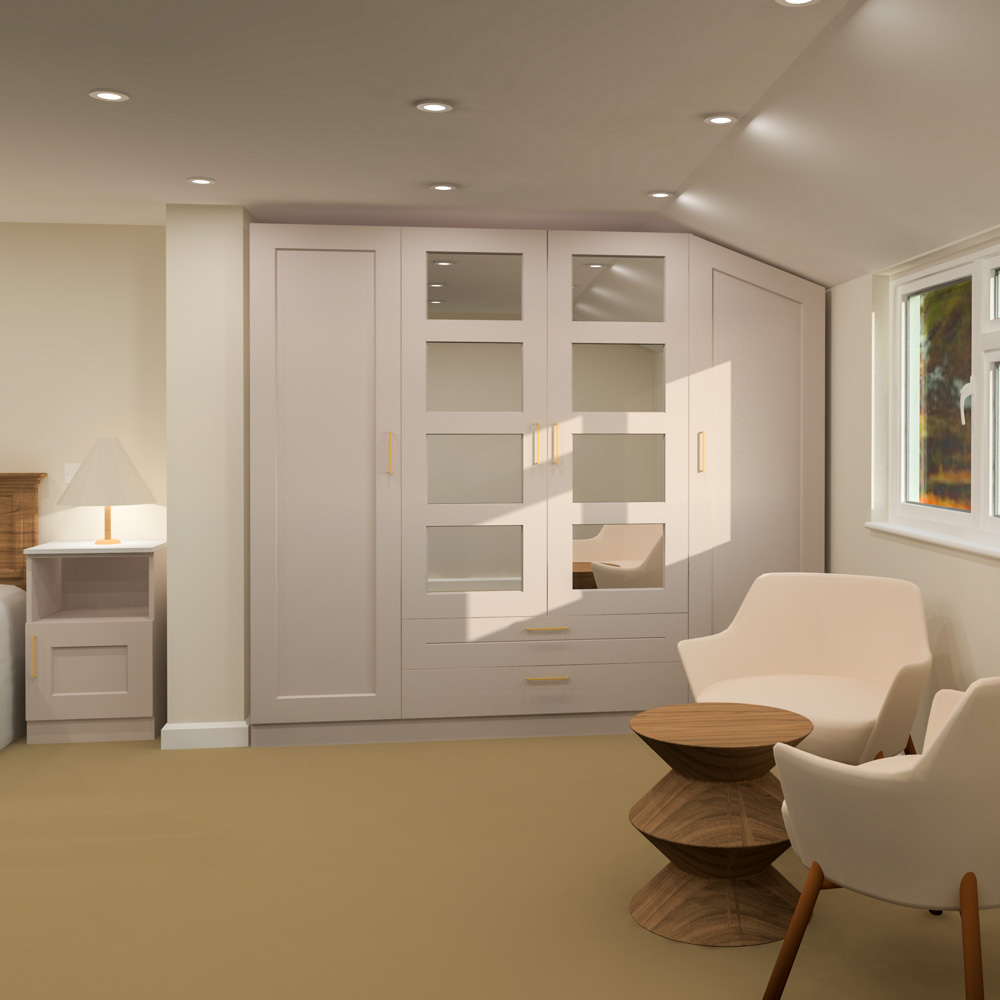 Made to the highest standard
Every panel is made from 18mm high-density MFC, including the back to ensure a stronger construction. Only the best soft-close Blum fittings are used, a leading manufacturer with a lifetime guarantee.
Order Now
Good for you, better for the environment
All wardrobes are made from sustainably sourced wood and the offcuts of your wardrobe even go into our wood fires that heat our factory creating zero waste.
Contact Us
25+ finishes to compliment your décor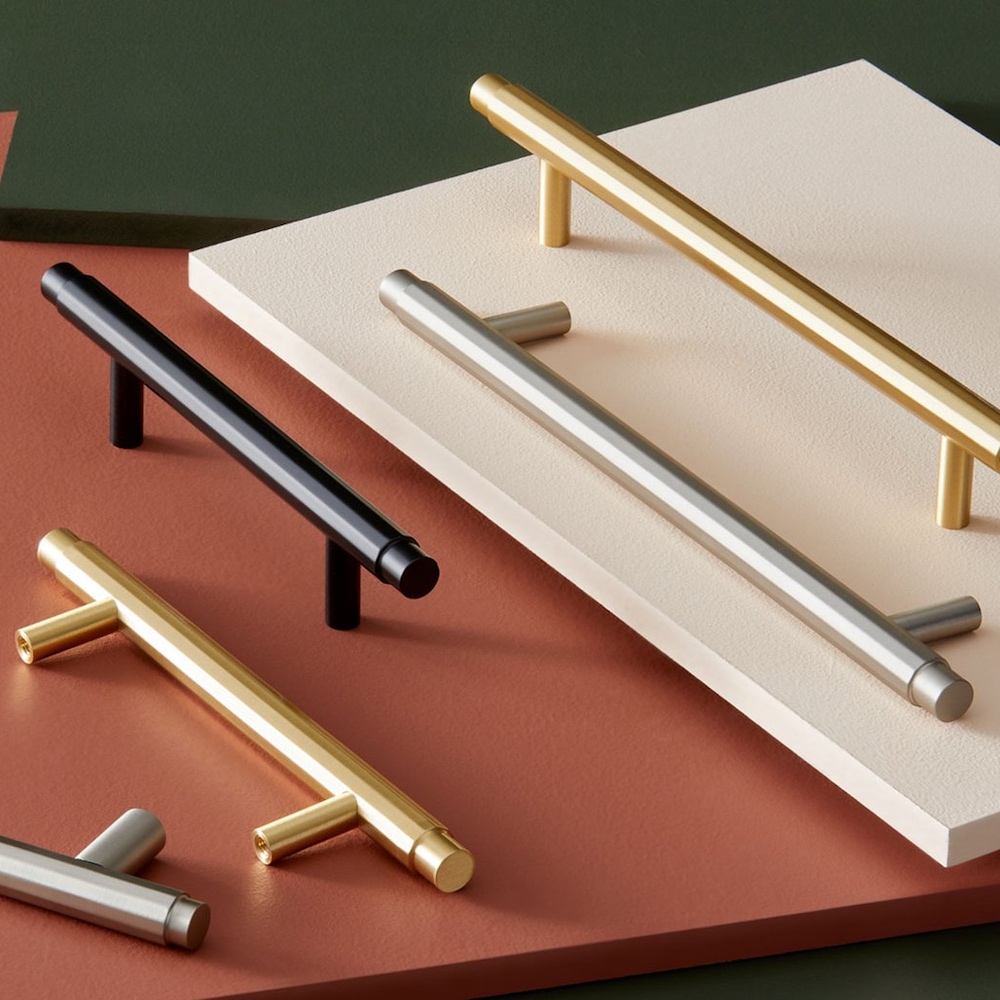 10+ door handle choices to suit your own personal style
Tie the whole thing together with the perfect accent handles, or create a chic and minimal look with integrated handles. Choose from the wide ranges of Plank, Hafele, LDL, or Herberts Direct handles and knobs offerings.
Get In Touch
Working with the biggest and bestest brands






Frequently Asked Questions
What are the benefits of a bespoke wardrobe?
Benefits include optimal use of space, storage customized to your needs, high-quality materials and construction, and a wardrobe that fits your personal style.
What is the design process for ordering a custom wardrobe?
Simply send us an email detailing your requirements and we'll provide you with a 3D visualisation for your approval.
What customisations can you make to a fitted wardrobe?
A whole host of customisation options are possible when configuring your bespoke wardrobe, including dimensions, layout, finishes, doors, shelves, drawers, racks, lighting and more.
How long does it take to get a custom wardrobe?
The typical timeline is 2 weeks from design finalisation to completion.
Can you match existing decor with a bespoke wardrobe?
Yes, we can select materials and finishes to blend seamlessly with your current home decor.
Do your wardrobes come with a warranty?
All our custom wardrobes come with a 10-year manufacturer's warranty covering defects.
Enquire about your wardrobe now
Fill in your details below with an idea of what it is you'd be looking to achieve and one of our team will be in touch shortly.