Ordered 7 pieces of 6mm…
Ordered 7 pieces of 6mm Acrillic/Perspex clear various sizes for my new enclosure for my CNC all were cut,packaged perfectly and arrived on time Quality of the Perspex and sizes and packaging were perfect my enclosure is now built well proud I would highly recommend this company and will be buying from them again in the future
Easy to deal with
Easy to deal with. Got exactly what we wanted
Shaker doors - top quality at a really good price.
Having previously bought a lot of MDF board cut to size to make an integrated wine rack and fitted shelf unit, I decided to go ahead and purchase 4 cabinet doors for cupboards in alcoves in our sitting room we were planning. I had already bought 4 doors from a company on eBay which were a standard size and whilst the dimensions were ok, they didn't really work so reluctantly decided to splash out and get 4 made to the exact size we wanted and ditch the unused ones. So, so glad I did, the quality of the new doors is far superior, the edges are finished so will give a really good finish when painted, the construction of the doors means the internal angles are sharp (not a routed curve) and the overall look and feel is very, very good. If you're thinking of giving your kitchen a makeover and replacing your doors with a shaker design I would wholeheartedly recommend that you go with it - whilst our project was not a kitchen, the look of the cabinets once finished will rival a bespoke joinery product!
Very pleased with the service
Very pleased with the service
Not fitted them yet but they look great.
Not fitted them yet but they look great.
Great customer service and final install looks great
Great customer service and final install looks great
Simple and straightforward ordering
It was simple and straightforward to order the Perspex I needed to replace my boat windows. The website was very easy to navigate and additional machining such as corner rads were easy to specify. The materials arrived well packaged and on time. The protective backing paper is well adhered and easy to trim. Overall very happy with my experience.
Excellent service
An easy to use online ordering process for some fairly complicated cut-outs - all arrived perfectly accurately cut, and in very good time. Excellent service.
Second delivery of shower strips
Arrived promptly again. The original strips on shower floor worked well. We no longer feel at risk of slipping.
Absolutely delighted
Absolutely delighted. Panes were perfectly cut, tape so easy to fit. The result on our bay window is perfect. Now no condensation, reduced noise and no drafts perfect result and you can't tell it's there.
Nice product, courier could have been more careful
Nice product, perfect size and arrived quickly. Only problem was the Courier DX who at some point managed to damage one corner. I was able to get it back in shape and position in a less obvious corner so saved on having to wait for a replacement.
All went well from ordering to…
All went well from ordering to delivery. Item packaged really well. Quality of the perpex was excellent.
Decent stuff accurately cut but website…
Decent stuff accurately cut but website for ordering is a bit awkward. Unfortunately, I omitted to add edge banding due to refreshing pages in my final order (although I had previously selected it), which meant that I had to obtain it elsewhere and apply it myself. Otherwise, well packed and delivered without problems and at a reasonable price.
Great service perfect cuts and speed…
Great service perfect cuts and speed delivery will definitely use them again
Great Service
Excellent product, delivered well
Excellent website
Excellent website I found what I wanted very quickly delivery was very quick which meant I could complete my project on time.
Fantastic quality product
Fantastic quality product
Precision Cutting
Just needed some small precise melamine pieces for shelves. They arrived promptly, were exact in measurement and of good quality. Very pleased (and with my homebuilt shelves in the bathroom!). Recommended
Excellent service as usual.
Excellent service as usual.
3D Fluted Panelling - Mini
Mini Fluted Wall Panels are made of vertical grooves or channels that run parallel to each other. These grooves are evenly spaced and can be either shallow or deep, depending on the desired aesthetic. Fluted panelling creates a sense of elegance and sophistication, adding texture and visual interest to walls, furniture, or other surfaces. It is often associated with classical or traditional design styles but can also be used to bring a touch of refinement to contemporary spaces.
Originating from Greece and Rome, fluted panelling has developed over time to become a modern and sleek aesthetic with an Art Deco style distinctive texture. Fluted panelling refers to a type of wall decor with vertical grooves that are evenly spaced. The grooves create a visually pleasing effect by adding depth and texture to your space.
One of the most defining characteristics of fluted panelling is its ability to reflect light. Due to the texture, light falls on the grooves and creates shadows which enhances its visual appearance. This effect adds depth and dimension, making rooms feel more open and inviting.
Need inspiration? We see 3D wall panelling in all sorts of environments. In the home, it is often installed in bedrooms as an accent wall, or covering the lower half of the wall in a hallway to add visual interest to it, whilst also protecting your walls from furniture bumps. You may also want to use it to decorate certain elements of your kitchen such as your cupboard or pantry doors. In businesses, fluted panelling is particularly popular in hotels and restaurants to give a sophisticated and luxurious look. Since our fluted panelling is cut to size, you can be as creative as you wish with it, and bring out your inner interior designer!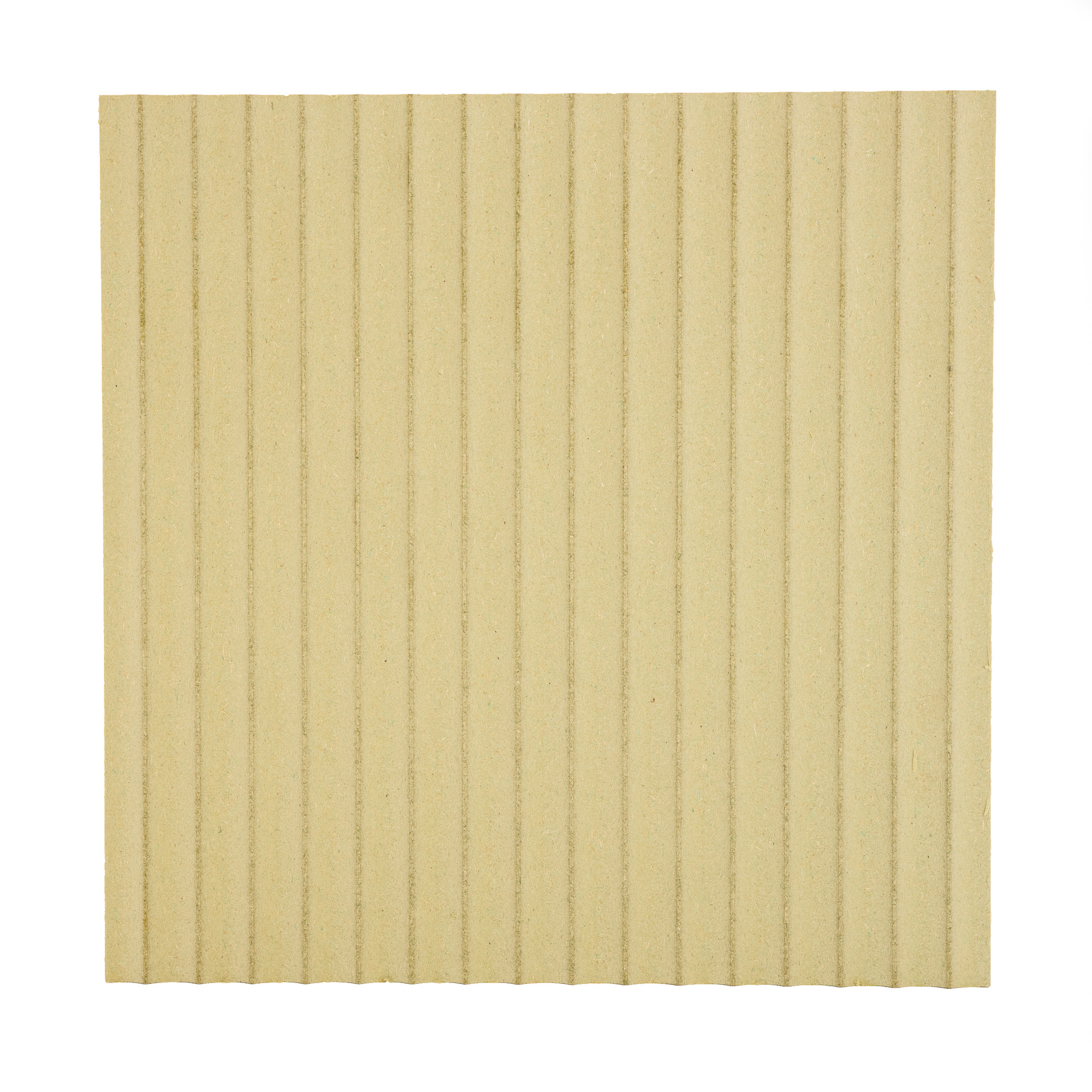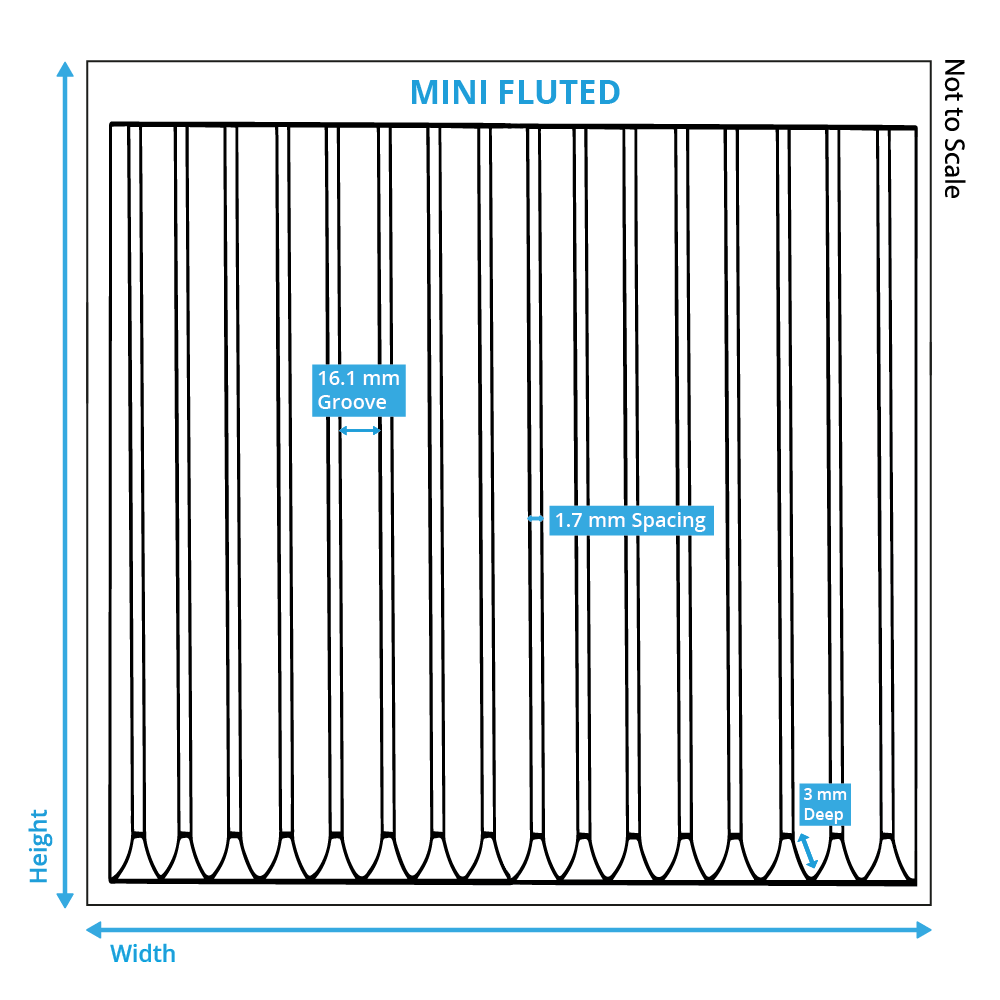 All Mini Fluted Wall Panel Colour Options
Although slightly more expensive than our ready-to-paint option, our Finsa Fibra Coloured MDF comes in 6 different colours which will save you time and money as they do not need priming and painting. Alternatively, we offer a paintable option which is made of Moisture Resistant MDF and this is ideal for rooms with high humidity.
Installing Mini Fluted Panelling
It couldn't be simpler to install your 3D Mini Fluted Panelling. Everything is cut to size for you so all you have to do is apply adhesive and stick to the wall. Here are some simple steps on installation, however, your order will come with a more detailed physical instruction manual to help you out!
If you have a large space to panel, you may have received multiple panels to fit together. You can lay them out on the floor to familiarise yourself with how they will be arranged on the wall.
Step 1: Prep your space
Please ensure your space has a clean, smooth, flat wall before applying your mini fluted wall panels. Put your Dust Sheets on the floor beneath the wall you are panelling to protect your flooring.
Step 2: Sand
Using sandpaper, sand your panelling to remove any fuzziness from the grooves of your panelling. This is especially necessary for paintable fluted panelling to ensure a smooth finish ready for painting.
Step 3: Adhere to wall
With your caulking gun, apply a snaking line of adhesive to the back of the panel and adhere it to the wall. Make sure to use a spirit level to ensure that it is straight. Then apply pressure as you push the panel board firmly to the wall.
Step 4: Repeat
Repeat steps 2 and 3 if you have multiple panels until all of your panelling is on the wall.
Step 5: Caulk
You can then use Caulk along the edges of your panels to fill any gaps. If your wall is not completely straight, you may find that your panelling seems to come away from the wall slightly, so caulk can act as a paintable filler. Use a filling knife to smooth the caulk out and wait for it all to dry.
Step 6: Prime (if necessary)
If you are using our Finsa-coloured MDF, please skip to step 8.
Using a primer and a paintbrush, prime your panelling and then wait for it to dry.
Step 7: Paint (if necessary)
If you are using our Finsa-coloured MDF, please skip to step 8.
Paint your fluted panelling a colour of your choice.
Step 8: Enjoy!
Once everything is dry. You are free to clean up and enjoy your new panelling!
Sustainability
Our Mini Fluted 3D panelling is made with premium high-quality FINSA MDF or Moisture Resistant MDF. FINSA is a leading company known for its sustainability efforts and commitment to environmental stewardship. With over 80 years of experience in the wood industry, FINSA has positioned itself as a responsible and environmentally conscious business. They are deeply committed to responsible forest management and actively promote sustainable practices in the wood industry, ensuring that the raw materials they use come from responsibly managed forests. FINSA collaborates with forestry certification programs like the Forest Stewardship Council (FSC) and the Programme for the Endorsement of Forest Certification (PEFC) to ensure the traceability and legality of their wood supply.
Specifications
| | |
| --- | --- |
| Material | Wood - MDF |
| Finish | Paintable or Finsa Fibracolour MDF in Black, Anthracite, Yellow, Blue, Grey and Red. |
| Thickness | 12mm Moisture Resistant MDF or 19mm Finsa |
| Maximum Sheet Size | 2440mm x 1220mm |
| Minimum Sheet Size | 100mm x 50mm |
| Fire Rating | Euroclass D |
| Cutting Tolerances | +/- 1mm |
Delivery Policy
FREE DELIVERY WHEN YOU SPEND £250 OR MORE
All delivery charges include excellent standards of packaging to ensure your order gets to you in great condition.
Economy
Less than 700x700mm or longest side <1300mm
£9.95
Estimated to arrive in 4-5 working days.
Estimated to arrive in 6-8 working days.
Express
Less than 700x700mm or one side <1300mm
£14.95
Estimated to arrive in 3 working days.
Estimated to arrive in 5 working days.
Next Working Day
Less than 700x700mm or one side <1300mm
£29.95
If out of stock, we will contact you to make other arrangements.
Sample Delivery
Estimated to arrive in 7 days.
Samples are generally 100mm x 100mm
Standard Collection
READY FROM 4 WORKING DAYS
Estimated ready from 4 working days
Collect from Unit 60, BN5 9XR
Collect from 9am to 12:30pm and 1pm to 5pm, Mon to Fri.
Express Collection
Ready within 2 working days.
Collection from Unit 60, BN5 9XR.
Collect from 9am to 12:30pm and 1pm to 5pm, Mon to Fri.
For further information on our terms and conditions regarding delivery, please read our Delivery Policy or Terms and Conditions page