When it comes to any outbuilding, there is always a risk of your glass panes getting damaged. Whether it be by a football or bad English weather, greenhouse windows, shed windows or garage windows can easily become destroyed and need replacing. Maybe one or more of the panes are warped. That's the thing with glass. It breaks, it warps, it gets damaged, it's just not as tough as modern acrylic or polycarbonate alternatives. It can even lose its transparency over time, which means it no longer does the job it was designed for.
If you don't want to give in and buy a new greenhouse or shed quite yet, it is super easy to replace broken or warped glass windows with a piece of high-quality acrylic or polycarbonate - and your plants and tools will be much safer for it! Better still, both materials are a whole lot better than glass in all sorts of ways.
We'll help you make the right choice if you're not sure which to choose – please get in touch to discuss your project.
Why acrylic and polycarbonate are better than glass
Both are safer than glass as they don't break as easily
They offer excellent UV protection
Both are salt-resistant so they are a good material if you live in a coastal area
Clear Acrylic and Polycarbonate windows have high tensile strength and are really difficult to break
Both are 100% recyclable
Benefits of Acrylic Windows
Acrylic is a little clearer than polycarbonate, slightly more transparent
Clear acrylic is cheaper than polycarbonate.
Both materials can suffer scratches, so you can't use abrasive cleaning materials on them, but it's easier to smooth out scratches in acrylic than in polycarbonate
Acrylic has 10-24 times the impact resistance of glass, however, polycarbonate has 30 times the resistance
Acrylic is easier to cut than polycarbonate
Acrylic sheets can be polished to a smooth finish, but you can't polish polycarbonate
Benefits of Polycarbonate Windows
Polycarbonate has more than 30 times the impact resistance of glass, which is much more than the resistance of acrylic
Polycarbonate is stronger than acrylic so it is less easy to break or crack
Polycarbonate is often your best choice if you need to drill into it
Clear polycarbonate comes in both rigid and flexible grades
DIY window replacement in 10 simple steps
Most people can do a great job of replacing a windowpane in a greenhouse or shed if they have a little DIY experience. Here's how to do it.
Measure the dimensions of the window frame to make sure you get the perfect fit, then send or bring your measurements to us and we'll cut the polycarbonate or acrylic sheet to size for you
Gather together your equipment - a putty knife or old butter knife, heavy-duty work gloves, tape measure, razor blade, some glazing points, window putty or adhesive silicone sealant, plus your acrylic or polycarbonate replacement pane
It makes sense to protect your eyes with goggles, just in case, and cover the floor beneath your working area with newspaper
Remove the broken glass and sweep up all the broken bits – that's why you need thick work gloves. If there's old glass stuck in the frame take great care, gently hooking out the biggest shards first. and the small ones last. If it's stuck fast, you can often get a pane out by gaffer-taping over the outside of it, making sure all the shards are taped, then using a hammer to gently dislodge the pane. Goggles and gloves are a must at this stage
Loosen all the old putty using a putty or butter knife, making sure you get it all off to leave a clean surface. You can shave off any awkward scraps using a razor blade or craft scalpel
Remove the old glazing points and make sure you have a smooth, even and clean surface to fix the new pane too, otherwise, you'll compromise its structural integrity
Evenly apply putty or adhesive silicone sealant all around the edge of the frame, creating a uniform look
Gently press the new pane into the putty or sealant, using glazing points to make it sit squarely in the frame - 2 -3 glazing points on each side of the frame is good, more if the pane is a big one
Apply a final layer of putty or sealant evenly along with the entire frame and give the outer edge a neat 45-degree angle, using the face of your knife blade. This helps protect the junction and frame itself from condensation and rain
Remove any debris then let the putty or sealant dry fully
If you still aren't confident in installing the window yourself, then get a professional in!
Window putty or silicone adhesive sealant?
You can use either putty or a white quick-drying silicone adhesive filler to stick the new pane to the window frame. They work equally well because acrylic and polycarbonate are both so much lighter than glass.
Need help choosing the right replacement pane?
If you need help choosing the right material, measuring the pane size or any other part of the project, we're always pleased to help. Call our friendly team or use our Live Chat facility.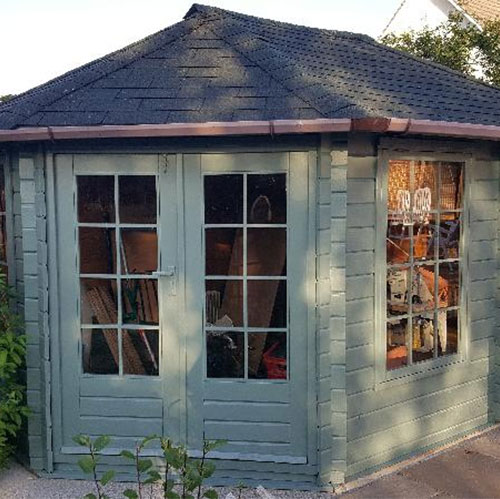 Replacement Shed Windows
Looking to replace your shed window? No need to worry about searching for the right size, we provide cut to size shed windows in two materials, Acrylic and Polycarbonate. Get yours now with quick delivery and competitive prices.
Buy Now