Ordered 7 pieces of 6mm…
Ordered 7 pieces of 6mm Acrillic/Perspex clear various sizes for my new enclosure for my CNC all were cut,packaged perfectly and arrived on time Quality of the Perspex and sizes and packaging were perfect my enclosure is now built well proud I would highly recommend this company and will be buying from them again in the future
Easy to deal with
Easy to deal with. Got exactly what we wanted
Shaker doors - top quality at a really good price.
Having previously bought a lot of MDF board cut to size to make an integrated wine rack and fitted shelf unit, I decided to go ahead and purchase 4 cabinet doors for cupboards in alcoves in our sitting room we were planning. I had already bought 4 doors from a company on eBay which were a standard size and whilst the dimensions were ok, they didn't really work so reluctantly decided to splash out and get 4 made to the exact size we wanted and ditch the unused ones. So, so glad I did, the quality of the new doors is far superior, the edges are finished so will give a really good finish when painted, the construction of the doors means the internal angles are sharp (not a routed curve) and the overall look and feel is very, very good. If you're thinking of giving your kitchen a makeover and replacing your doors with a shaker design I would wholeheartedly recommend that you go with it - whilst our project was not a kitchen, the look of the cabinets once finished will rival a bespoke joinery product!
Very pleased with the service
Very pleased with the service
Not fitted them yet but they look great.
Not fitted them yet but they look great.
Great customer service and final install looks great
Great customer service and final install looks great
Simple and straightforward ordering
It was simple and straightforward to order the Perspex I needed to replace my boat windows. The website was very easy to navigate and additional machining such as corner rads were easy to specify. The materials arrived well packaged and on time. The protective backing paper is well adhered and easy to trim. Overall very happy with my experience.
Excellent service
An easy to use online ordering process for some fairly complicated cut-outs - all arrived perfectly accurately cut, and in very good time. Excellent service.
Second delivery of shower strips
Arrived promptly again. The original strips on shower floor worked well. We no longer feel at risk of slipping.
Absolutely delighted
Absolutely delighted. Panes were perfectly cut, tape so easy to fit. The result on our bay window is perfect. Now no condensation, reduced noise and no drafts perfect result and you can't tell it's there.
Nice product, courier could have been more careful
Nice product, perfect size and arrived quickly. Only problem was the Courier DX who at some point managed to damage one corner. I was able to get it back in shape and position in a less obvious corner so saved on having to wait for a replacement.
All went well from ordering to…
All went well from ordering to delivery. Item packaged really well. Quality of the perpex was excellent.
Decent stuff accurately cut but website…
Decent stuff accurately cut but website for ordering is a bit awkward. Unfortunately, I omitted to add edge banding due to refreshing pages in my final order (although I had previously selected it), which meant that I had to obtain it elsewhere and apply it myself. Otherwise, well packed and delivered without problems and at a reasonable price.
Great service perfect cuts and speed…
Great service perfect cuts and speed delivery will definitely use them again
Great Service
Excellent product, delivered well
Excellent website
Excellent website I found what I wanted very quickly delivery was very quick which meant I could complete my project on time.
Fantastic quality product
Fantastic quality product
Precision Cutting
Just needed some small precise melamine pieces for shelves. They arrived promptly, were exact in measurement and of good quality. Very pleased (and with my homebuilt shelves in the bathroom!). Recommended
Excellent service as usual.
Excellent service as usual.
Walnut Floating Shelves Details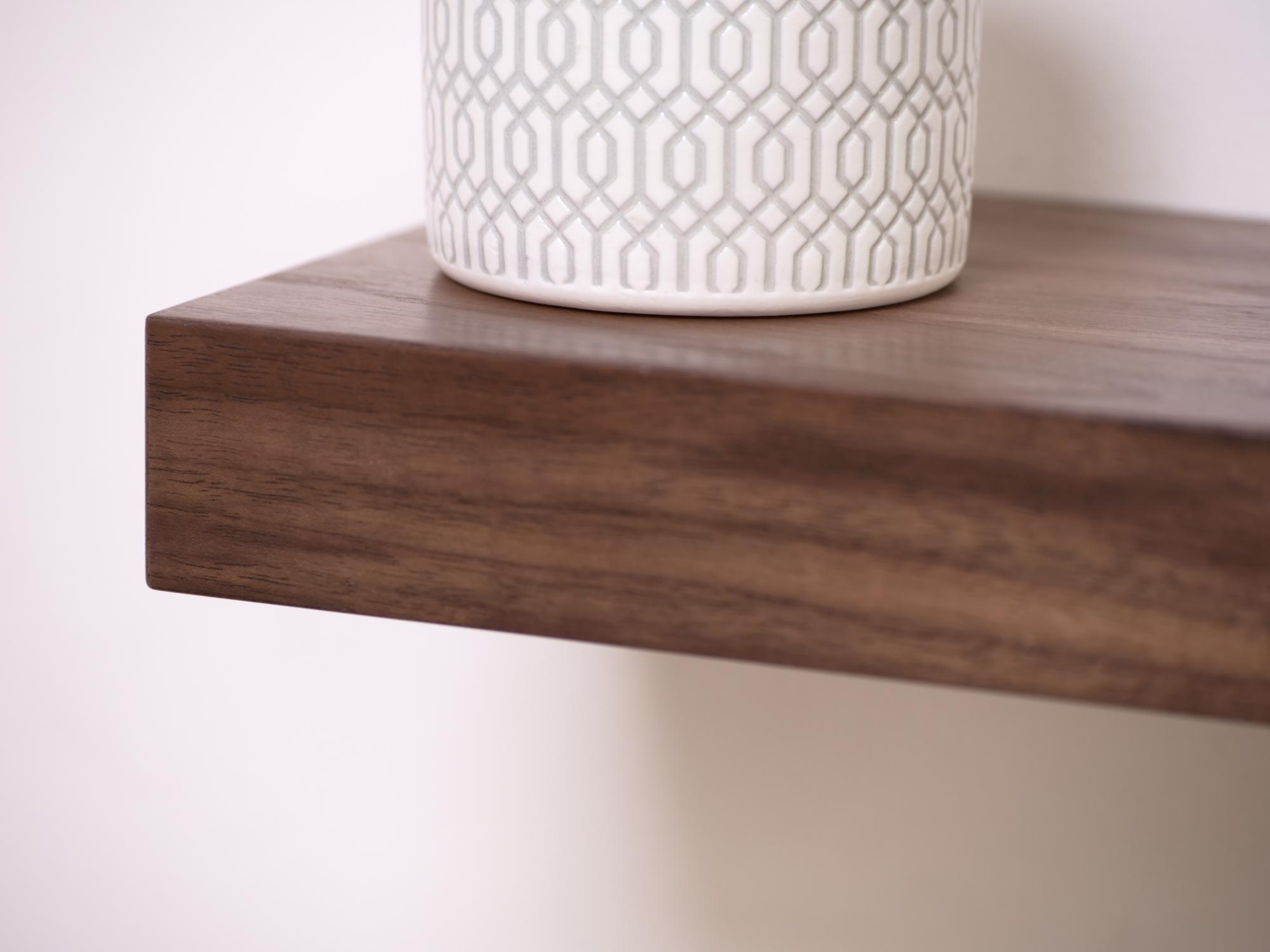 Our walnut floating shelves have a rich and dark grain colour which will work well in tying any modern or traditional home office or living room together. The American Black Walnut veneer pairs fantastically with darker accent furniture and ornaments giving a warm and sophisticated feel to your home or office. They can be mixed and matched with our black floating shelves to create a more dynamic and thoroughly thought-out decor design. If you're after a slightly lighter tone, take a look at our oak floating shelves.
Our walnut floating shelves are cut to your exact requirements and then professionally lacquered for a semi sheen finish. The real American Black Walnut Veneered MDF looks and feels like real solid wood and can similarly be sanded and planed at home to fit against uneven walls, creating a perfect fit for your alcoves.
To give the appearance of floating on the wall, invisible brackets are supplied with your order. Please select the bracket suitable for your wall material. For shelves 38mm and 50mm in thickness adjustable plate brackets are for plasterboard, masonry or woodwork and can be adjusted for levelling; you'll need to supply your own screws and wall plugs to suit the wall material. Available for all thicknesses are standard screw brackets for masonry walls; no extra hardware such as screws are needed. Our customer support team are on hand to advise on installation if needed.
We have made a guide on how to install floating shelves which features step-by-step instructions as well as all the tools you will need for installation.
Share how you are using your shelving to feature on our website. Simply mention @cutmyplasticuk on Instagram or upload a photo and tag us!
Frequently Asked Questions
Can walnut floating shelves hold much weight?
This depends on the size, the wall material and the brackets and fixings used.
Unfortunately we cannot tell you how much weight yours can hold as each one is made to measure and therefore the weight capacity will vary. Whether you are fixing to masonry, plasterboard or woodwork and the size of screws you choose will also affect the max load.
To hold the most weight we recommend fixing to a masonry wall with adjustable plate brackets and at least 50mm screws and wall plugs. It will hold considerably less weight if fixing to a plasterboard wall or studs.
Whatever the wall material or fixings used, it's important to ensure weight load is evenly distributed to make full use of the weight capacity.
Are walnut floating shelves strong?
Again, this depends on the size, the wall material and the brackets and fixings used.
For example at 1000mm wide x 300mm deep, fixed to a masonry wall with our adjustable plate bracket and 50mm screws, it would be very strong and would likely hold up to 26kg of weight.
Using smaller screws and fixing onto studs in a plasterboard wall will reduce the strength considerably.
Can you buy a walnut floating shelf deeper than 250mm?
No, unfortunately, due to the stability we cannot supply them deeper than 250mm.
Are brackets included?
Yes, brackets are included. If you choose adjustable plate brackets, screws and wall plugs are not included. Please ensure you use the correct size screws and wall plugs for your wall material. For masonry walls, we recommend at least 50mm screws and wall plugs.
What brackets should I choose?
Adjustable Plate Bracket:
Suitable for woodwork, plasterboard, or masonry walls
Screws and wall plugs not included
Micro adjustments available for levelling
Standard Screw-Type Bracket:
Suitable for masonry walls
A simple installation that requires no additional hardware
How many brackets will I receive?
This will depend on the length and depth of your walnut shelf; we will supply you with the correct number of brackets leaving no more than 600mm between brackets.
Does this product come with screws?
No, if you select the adjustable plate bracket you won't receive screws or wall plugs. For the standard screw bracket, the screw is a part of the bracket and the wall plug is provided so no extra hardware is needed. If using the adjustable plate bracket please ensure you purchase the correct screws and wall plugs for the wall material.
Can you put walnut floating shelves on plasterboard?
This is not something we recommend as the load capacity will be significantly reduced. If your only option is to fix to plasterboard, where possible fix to the studs and noggins in the wall for greater stability. If you cannot fix to the studs use specific fixings for plasterboard walls such as spring-loaded toggles or metal self-drill plasterboard fixings. Please choose the adjustable shelf bracket as this is the only bracket we supply that is suitable for plasterboard walls.
Can you put the holes for the brackets exactly where I need them?
If you would like custom bracket holes you must contact us with your requirements before placing your order to make sure we can accommodate your request. Please email info@cutmy.co.uk or call our customer services team on 01903 389024.
How do you attach them to a wall?
Using invisible brackets, these are screwed into the wall and then the walnut shelf slots over the rods to appear as though it's floating.
Are they hard to install?
No, not at all, simply attach the bracket to the wall and slide the walnut shelf onto the bracket. Please ensure you check the wall is clear from any electrical cables or plumbing before screwing the bracket to the wall. For best results use a spirit level when determining where the brackets should be fixed to the wall.
Will they warp over time?
This is highly unlikely because we start with a solid core construction and our 38mm and 50mm thick shelves are routed in the middle for weight reduction. Cheaper versions of floating shelves available in high street stores will warp over time as they are just thin faces with a grid-like structure on the inside which creates a hollow interior that is more likely to bow.
Are your walnut floating shelves made of solid wood?
They start as a solid Medite MDF core, we then hollow out the middle for weight reduction and then laminate with a 0.5mm crown cut real wood American Walnut veneer. Although they are not made of a solid piece of walnut wood they have the look and feel of it at a fraction of the price.
Delivery Policy
FREE DELIVERY WHEN YOU SPEND £250 OR MORE
All delivery charges include excellent standards of packaging to ensure your order gets to you in great condition.
Economy
Less than 700x700mm or longest side <1300mm
£9.95
Estimated to arrive in 4-5 working days.
Estimated to arrive in 6-8 working days.
Express
Less than 700x700mm or one side <1300mm
£14.95
Estimated to arrive in 3 working days.
Estimated to arrive in 5 working days.
Next Working Day
Less than 700x700mm or one side <1300mm
£29.95
If out of stock, we will contact you to make other arrangements.
Sample Delivery
Estimated to arrive in 7 days.
Samples are generally 100mm x 100mm
Standard Collection
READY FROM 4 WORKING DAYS
Estimated ready from 4 working days
Collect from Unit 60, BN5 9XR
Collect from 9am to 12:30pm and 1pm to 5pm, Mon to Fri.
Express Collection
Ready within 2 working days.
Collection from Unit 60, BN5 9XR.
Collect from 9am to 12:30pm and 1pm to 5pm, Mon to Fri.
For further information on our terms and conditions regarding delivery, please read our Delivery Policy or Terms and Conditions page
Reviews
Verified, Collected by Cut My
Perfect match for existing oak furniture
Verified, Collected by Cut My
Very strong shelving , had a couple of minor marks , didn't show once put on wall .
Verified, Collected by Cut My
Product made to measure. Very pleased with the convenience of ordering exactly what we wanted and getting something of quality delivered in a timely manner. Thank you.
Verified, Collected by Cut My
Ordered 2 floating shelves. Holes were drilled wrong, there was a ridge inside so that the brackets didn't go into them. Shame about the mess up but they refunded me and handled it well.
Verified, Collected by Cut My
Excellent Product & Service
Verified, Collected by Cut My
Shelf itself was good and well made, but came with adjustable brackets that did not fit into the back of the shelf. Maybe the standard ones do, but I was sent the adjustable ones and they didn't so the shelf would only go back to around 1 cm from flush with the wall. No answer on the customer service phone and the instgructions online arte clearly just wrong. Resorted to routing out the shelf to create space for the brackets to fit - OK if you have a router and don't mind the mess it made routing out mdf! Too much hasstle, no after sales service. Perhaps they are good at plastic, but don't buy the shelves...
Verified, Collected by Cut My
Great quality product at a fair price. Manufacture and delivery was super quick. Delighted.
Verified, Collected by Cut My
Shelf looks great up and is good quality. On the whole I am pleased with this product. However, it is very expensive compared to those you can buy off the shelf. I was also disappointed to find that on unpacking the shelf it was dirty and needed a good clean. This is something that should be checked by quality control before packing. I would like to add that I used your on-line chat service prior to purchase to ask some questions and I found the person I was talking to be very helpful and knowledgeable.
Verified, Collected by Cut My
Finished our bedroom off nicely, looks great!
Verified, Collected by Cut My