I guess you can call me a traditionalist when I say that I still advocate the use of glass and cold frames in making greenhouses. For me, an attractive greenhouse that can get me more excited than any display in Hattie Garden uses precisely glass, cold frames, and the like. Of course, these plant havens should be filled with a variety of plants at any development stage. However, as time passed, I have noticed that many gardeners in Europe, especially in Germany, have been using polycarbonates as an alternative to glass.
With the rising trend in "growing your own", more people are inclined to raise plants in the comforts of their homes. All they need is a permanently covered space and they can already grow any plant of their liking. They can also save the plants from unpredictable weather and bothersome pests.
If you are wondering about the payback period of a traditional pukka greenhouse, it would probably be cheaper if you get your vegetables shipped from Fortnum's weekly instead. On the brighter side of things, you can have a cheaper alternative by making a polycarbonate greenhouse. For starters, it can cost for less than £200 and can be assembled by only two people in a day.
Polycarbonate greenhouses have had drawbacks over the years and are still not considered replacements for glass greenhouses at least in our area. Not until I had an incident with my greenhouse glass shattering did I actually consider one. What happened was that a year ago when I was tending my plants in my greenhouse, a sparrowhawk with a speed so fast smacked itself at my greenhouse. The impact was so strong that there was a shower of glass. The sparrowhawk survived much to my relief, but I had to go to the local glazier just to replace my broken panel.
In a recent event showcasing polycarbonate greenhouses, a sales team offered passersby a free greenhouse if they manage to break a polycarbonate sheet. In spite of immense efforts, no one was successful. Comparing polycarbonate sheets to my cold frames, the latter is more prone to breakages due to their lower height and gentler incline. It can break easily just by dropping large pheasants, showering apples caused by autumnal gales, and even careless opening and closing of the panels. Add to that, polycarbonates have longer lives and are safer for children and the elderly.
More than breakage and safety, I am also concerned about the insulation properties of the materials I use for my greenhouse. This is because thermal insulation is critical to some of my plants like argyranthemums, tender perennials, and citrus to name a few. Do polycarbonate sheets retain heat radiated from the ground at night?
To maintain the temperature in my greenhouse, I have a small electric heater that is set on a thermostat that will keep the area frost-free. For a wide range of materials, thermal insulation has a value of "R". A single layer of horticultural glass that is usually 3-mm thick has an R-value of 0.93 while a single layer of polycarbonate has a value of 0.83. This means it retains slightly less heat so I would have to use bubble wrap or fleece on tender plants. Nonetheless, if I use a 4-mm twin-wall polycarbonate which is the standard in Germany, the R-value rises to 1.42 which keeps a lot more heat and will eventually help me cut down on my electric bill. So yes, polycarbonate sheets retain heat from the ground.
Polycarbonate sheets also have a reputation of clouding or turning yellowish over a long period of time. Thanks to the developments of new films, clouding problems no longer pose a problem. When it comes to twin-wall material, though, you need to apply special tape over the cut ends to prevent moisture from getting in and algae from seeping through.
My other worry is the amount of light that gets through to my plants. Single-skin polycarbonates have around 94-96% light transmission while 4-mm polycarbonates have a value of 80-84%. Although the latter has a lower transmission value even comparing to a 3-mm glass with a value of 97-98%, the light that passes through it is more diffused since it penetrates into areas that light usually does not pass when glass is used. This seems to be another plus for polycarbonates.
In the end, I replaced the glass of my greenhouse to clear twin-wall polycarbonates. It cost me more because a pane of 3-mm horticultural glass with dimensions of 725 x 1420 mm costs around £14.05 and the 4-mm twin-wall sheets I installed are around £21.27. I just kept in mind that polycarbonates will be lasting longer and it came with a 10-year guarantee.
Of course, I expect them to last relatively longer than that.
My lean-to greenhouse now has a twin-wall polycarbonate roof with glass slides. The lightness of the roof did not need much to support it – just a few timbers were already enough. This came as an advantage because the less support the greenhouse roof has the more light could penetrate, the less its draught potential is, and the lighter it would be on your wallet.
Lastly, polycarbonates not only ensures your plants safety and wellness but also yours. Polycarbonates filter out almost all UV rays so you do not have to worry about getting sunburned while tending your greenhouse.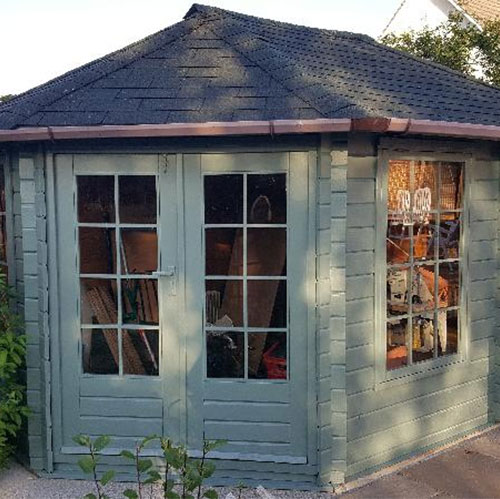 Replacement Shed Windows
Looking to replace your shed window? No need to worry about searching for the right size, we provide cut to size shed windows in three different materials, Acrylic, Polycarbonate, and HIPS. Get yours now with quick delivery and competitive prices.
Buy Now