One of the most important pieces of furniture to get when setting up a gym or a dance studio is a floor to ceiling mirror that will help your clients see their form while they are doing those crunches and/or dance moves. It is, therefore, imperative that you choose the right gym mirrors for your facility.
There are a variety of gym mirrors available on the market today. These come in a variety of styles, size, finish, and, of course, the materials that are used in their fabrication. More often than not, many novice gym owners make the mistake of getting something not really appropriate for their health and fitness facility. It is for this reason that you need to explore the different options when choosing the correct gym mirror.
Things to consider when buying a gym mirror
Like any other endeavour, it is crucial to carefully examine all the different parameters that can have a bearing on your choice. Choosing a gym mirror is not unlike picking furniture for your home. You have to have a clear idea of what you want. To help you in making the correct decision, here are some things that you need to consider when buying your mirror for your dance studio or gym.
Size of your wall
One of the most important considerations that you will have to factor in is the size of the wall in your facility. It also depends on how you want the mirrors to be placed. If you require an end to end or corner to corner mirror, then you will have to measure the entire length of the wall. If, for example, you only want to put mirrors in certain sections of the wall or even leave a space in the corners, then you will have to measure this too.
The standard width of a gym mirror is 1,220 millimetres or 4 feet. So, you will have to measure the length of your wall and then divide that by either 4 feet or by 1,220 millimetres. If the quotient is not a whole number, then you will need to round it off to the nearest whole number.
For instance, if the length or width of your wall is about 20 feet long or wide, then that means you will need to divide 20 feet by 4 feet to give you 5 sheets of gym mirror. Now, if you want to have space at both corners of the wall, say about 1 foot each, then the total length would be 18 feet.
As for the height of the gym mirror, the standard is 6 feet, although it is not unusual for it to be up to 8 feet. You can actually decide on the height of the mirror and have it cut according to your needs. A lot of people prefer to have a floor to ceiling type of mirror while some would like it to start a bit higher off the floor especially if they have heavy weights or any other gym equipment that may break the glass by accident.
Glass or acrylic
There are two fundamental materials used in the construction of gym mirrors. If it is reflection fidelity that you are after then it's best to use glass. However, caution must be observed as this is not really shatter-proof. If you require a gym mirror that can be designed or styled in a particular form, then your best bet is an acrylic mirror or plastic mirror. Do take note that these are relatively thinner, usually about 3 millimetres, and as such are prone to flexing. Because of this flexing, you may not get the kind of reflection that you want from your mirror.
Thickness of the mirror
As a general rule, the thicker the mirror plate, the better and sturdier it is. The problem with thin mirrors like those made of acrylic is that they are prone to flexing. You should always target 3 millimetres or even 5 millimetres. For home use, a 3 mm mirror should suffice. However, if this is for a dance studio or a gym where other people will also be present, then you should always go for the 5 millimetres.
Method of installation
When measuring for the right size of acrylic, it's important to provide the exact specifications to ensure a professional finish. Allow a 2-3mm gap around the edges for a snug fit and ensure that you allow 6-7mm for adjoining corners so that the adjoining seam is secure. We recommend ensuring the wall where the mirrored acrylic is being installed is absolutely flat; if you are not sure, try attaching the acrylic to some MDF, and then attaching the MDF to the wall.
Acrylic mirror sheets are a flexible material, therefore they must be applied to a completely flat surface. We suggest using some MDF to ensure that the mirror is on a completely flat surface. If you are ordering larger dimensions, you might also want to consider the 5mm thick acrylic mirror which is more rigid.
When it comes to fitting your sheet, it couldn't be easier – you can either drill the acrylic to the wall, ensuring that you use an appropriate drill bit to avoid damaging the material, or use a solvent-based adhesive to simply glue the sheet to the wall. This is more commonly used as a way of installing acrylic as it's easier and quicker than drilling but ensure that you don't apply the adhesive too close to the edge so that it doesn't become visible when you press the sheet to the wall. When applying the adhesive, be sure to spread a very thin even layer across all of the back of the mirror. Failure to do this, or to stick the acrylic to a flat surface could result in a distorted image. One of the main benefits of using plastic sheeting is that it's easy to keep clean and hygienic. It just requires a wipe over with warm soapy water and a clean cloth to remove any dirt or dust.
Now that you have all the information you need you're now more confident about your choice of the perfect gym mirror.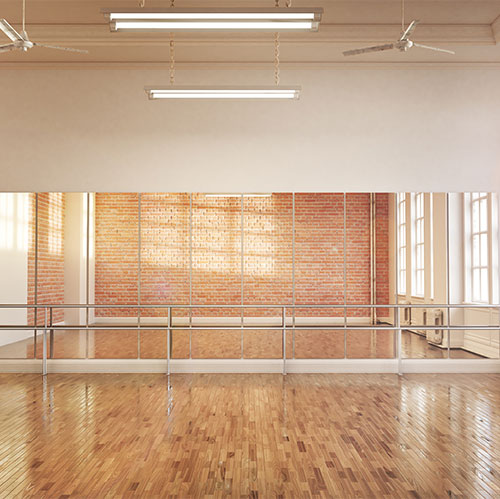 Gym and Dance Studio Mirrors
In the need of a shatterproof gym and dance studio mirror? Get yours now cut to size with quick delivery and competitive prices.
Buy Now