Acrylic sheeting and Polycarbonate sheeting are not the same. So how do you choose the right material for the job? Luckily while they look similar, their properties are very different. Here's what you need to know.

Acrylic v polycarbonate - An overview of the differences
Both materials feature impressive impact resistance. Both compare well with glass, making good glass alternatives. And they both weigh less than half the weight of glass.
Sheet-grade polycarbonate is also called Lexan or Makrolon. Acrylic sheet is also called Lucite, Optix or Plexiglass
Polycarbonate is the strongest, with more than 30 times the impact resistance of glass. Acrylic has 10-24 times the impact resistance of glass
As a general rule, acrylic sheet is more shiny and polycarbonate is stronger
Acrylic comes in every imaginable colour. Polycarbonate comes in fewer colours
Polycarbonate can go slightly yellow when exposed long-term to UV rays
Both materials can suffer scratches, so you can't use abrasive cleaning materials on them. But it's easier to repair scratches in acrylic than in polycarbonate
Acrylic tends to be a bit clearer than polycarbonate, slightly more transparent
Polycarbonate usually costs more than acrylic, sometimes a lot more
Acrylic is easier to cut. Polycarbonate is better if you need to drill, and you can use a standard drill bit
Acrylic is easier to break, especially if you drill close to the edge
Acrylic sheets can be polished to a smooth finish, but you can't polish polycarbonate
Acrylic is extremely rigid and cracks more easily than polycarbonate. Polycarbonate comes in both rigid and flexible grades
Acrylic isn't recommended in areas close to fire or heat. Polycarbonate is better at handling heat, up to 115 C, and is resistant to fire as well as acids and other chemicals
Polycarbonate is good for cold-forming and bending without heat, but it also dents easily
Both are salt-resistant so good for coastal areas
Both are 100% recyclable

When you can use polycarbonate combined with acrylic
Polycarbonate is your ideal composite material for things like bulletproof glass and riot shields. Its high impact strength and high light transmission make it ideal for greenhouses. Acrylic, like polycarbonate, has very high light transmission but is also extremely scratch resistant. This makes it ideal for optical devices, being safer and stronger than glass.
They can also be used in conjunction, for example in shop windows made from layers of acrylic and polycarbonate, in situations where scratch resistance matters just as much as safety and strength. You might, for example, make a shop window from outer layers of acrylic fused around an inner layer of polycarbonate.

Popular uses for acrylic sheet
Knowing its uses is often the easiest way to decide which material you need. Here are some of the most popular uses for acrylic plastic sheets.
Fish tanks and vivariums
Retail point-of-sale displays
Kitchen and bathroom splashbacks
Presentation boards for businesses
Table protectors and cut-to-size table tops
Displays for retail, schools, colleges, boardrooms and more
To clad walls and old kitchen cabinet doors
To replace glass in furniture
As signage
To use as secondary glazing within the home
For craft projects and artwork
To make contemporary shelving
As a safer, lighter, cheaper alternative to glass in picture frames
To replace small glass windows

Popular uses for polycarbonate sheet
Here are some of the most common uses for polycarbonate sheeting.
Racing car windows
Transparent visors for sport
Re-usable drinking bottles
Computer, phone and tablet screens
Machine safety guards
Bulletproof glass, security glass and safety goggles
Semiconductor parts
Nameplates and signage
Greenhouses, carports and conservatories
Roofing and trims
Bus shelters
As a replacement for glass in buildings, for example, skylights.

Polycarbonate versus acrylic - The differences in cost
Polycarbonate is more expensive than acrylic, approximately 45% more than our acrylic prices. However, this additional cost does guarantee you the strongest plastic we have available.

The best material for kitchen splashbacks and bathroom splashbacks?
Colourful contemporary splashbacks are all the rage. But you need to take care in hot places.
Don't use acrylic sheeting behind or too near to a gas or electric cooker, hob, open fire, wood burner, Rayburn, Aga or any other source of heat. If the area is likely to get hotter than 160°C it can damage the acrylic, so we advise against it. Why not check out our beautiful range of glass instead?
If you have an induction or electric hob, you can fit a continuous acrylic splashback along the entire wall as long as you make sure there's a minimum 50mm gap between the hob and the panel. The panels are 300cm long, so if the wall is any longer you'll need a second panel. But if your gas hob cooker runs along the wall where you want the kitchen splashbacks to go, you'll need to fit a special toughened glass splashback.

Acrylic versus glass
Acrylic is less than half the weight of glass
It is many times stronger than glass
When it shatters you get big chunks with blunt edges, much safer than glass shards
Acrylic insulates better than glass
Moulded and extruded glass items are more expensive and take more energy to make
You can't saw, mill or bend glass and it's difficult to form with heat
Glass is harder to scratch but acrylic sheets sometimes come with a scratch-resistant coating
Small scratches can be polished out of acrylic but you have to replace scratched glass
Glass lets 90% through, acrylic lets 92% through
Acrylic prevents UV light from passing through.

Polycarbonate versus glass
Almost unbreakable, a clear advantage over glass
Can withstand extreme force
Protects better against vandalism and theft, 250 times more resistant to impacts than glass
Withstands extreme temperatures for long periods
Lasts longer than glass
Offers better insulation than glass, with excellent thermal efficiency
The light it lets in is softer than glass, protecting plants in greenhouses
Polycarbonate sheet is six times lighter than glass, so safer and easier to install
You can cut it with a standard circular saw, impossible with glass
It's easy to cut and form, and can be cut on-site.

Unusual and creative uses for our plastics
One of our customers got creative with acrylic sheet, replacing a dangerous glass tabletop with something safer, lighter and tougher. It's far better for his autistic grandson, who had broken the original glass top and was lucky not to be injured.

Any questions?
We're always happy to point you in the right direction. If you would like help deciding which product to buy for your project, call or email our expert team for fast, friendly answers.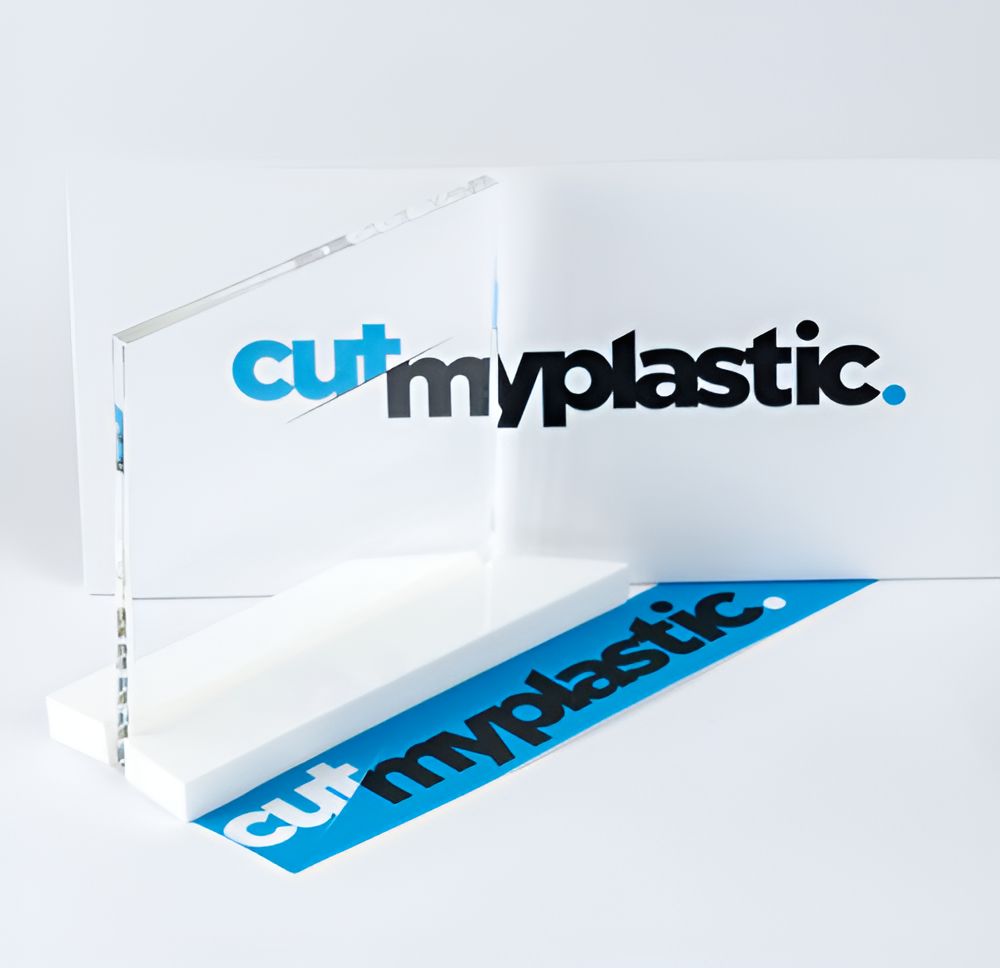 Is Acrylic What You're After? Start Shopping Now!
Have you now come to the conclusion that Acrylic is the right material for the job? We supply a large variety of thicknesses and finishes of acrylic sheets, from clear to coloured and everything in between.
Buy Now
Shop Other Plastic Sheets
Was acrylic not the plastic material you were after? Then take a look at one of our many other plastic sheet materials. These again are available in a plethora of thicknesses, finishes, and all also all available cut to the size you need.